Helping the global fight against plastic pollution in Peru!
Plastics are a well-recognised and significant threat to the environment. Plastic pollution arising from coastal garbage, tourism, the global fishing sector, and illegal dumping amongst other sources, invade aquatic ecosystems, entering the food chain and causing mortality.  In 2019, A Rocha Peru started its global fight against plastic pollution by raising awareness and taking action to care for our beaches in Lima, Peru by helping to facilitate two beach clean-ups with the help and support of our partners and volunteers.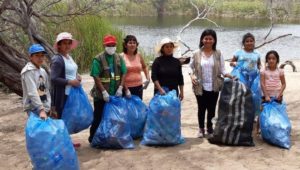 For World Clean-up Day, on the 21st of September , A Rocha Peru carried out a beach clean-up in Villa, Chorrillos.   With the help of 7 members and volunteers we were able to collect 35kg of rubbish. On the same day, 20 members of A Rocha Peru with community leaders from the Dry Forest Project also spent the day cleaning the area surrounding the small lagoon in el Cañoncillo, Pacasmayo, followed by a gathering of friendship and fraternity with community members.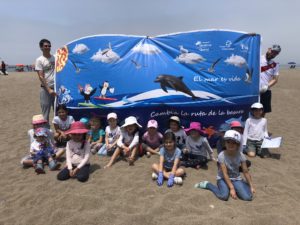 On the 30th of November, A Rocha Peru helped organise, clean and collect rubbish for a second beach clean-up at Playa Agua Dulce and Playa Pescadores in Chorrillos, Lima. The beach clean-up was delivered in partnership with VIDA, H2Olas, the Chorillos Municipality, Club Regatas, Lima and San Silvestre School.  It was a great success! With the participation of 100 volunteers, we collected 230kg of plastic and rubbish (including micro plastics, construction material, glass, clothing).
We thank all our volunteers and partners that have joined forces to carry out such a beneficial initiative for Peru. We hope you will get involved in the global plastic clean-up for this year's campaigns to help reduce the presence of plastics and rubbish in our beaches and ocean.