Flood Relief Campaign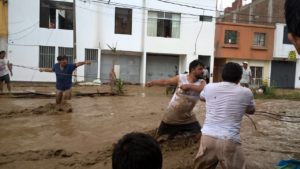 At the beginning of 2017, Peru suffered from torrential rains, catastrophic flooding and landslides, due to the El Niño phenomenon, which was intensified by climate change. In March, a state of emergency was declared in several areas throughout Peru, with the northern coast experiencing the worst flooding in thirty years.
Overall the disaster took over 100 lives, and left more than 140,000 homeless, and affected almost one million people. Thousands are still displaced, with their livelihoods destroyed, and with restricted access to clean water, food, shelter, health care services and education. Relief efforts have also been complicated by damage to vital infrastructure, such as bridges and roads.
In solidarity with those affected, A Rocha International, together with Climate Stewards and various A Rocha organisations around the world, have generously provided funds to enable A Rocha Peru to respond to the urgent needs of communities in our project areas in La Libertad, northern Peru.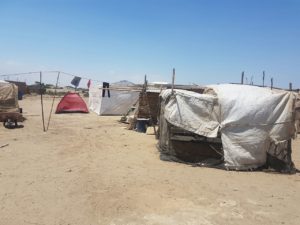 These communities have been devastated and many homes have been destroyed, forcing them to live in temporary, make-shift housing. Due to damage to infrastructure and heightened food insecurity, many have been left without access to basic services. Based on this, we have used these funds to donate kitchen supplies for four communal kitchens in San Pedro de Lloc, La Libertad, which were set up in response to the flooding and have each been providing food on a daily basis to around 120 local people. Furthermore, we have been delivering food supplies to enable these kitchens to continue providing ongoing support. We are grateful to A Rocha family for their support during these difficult times and ask for your prayers for those who are continuing to rebuild their lives.