'Time Out' 2016 linked to IUCN World Conservation Congress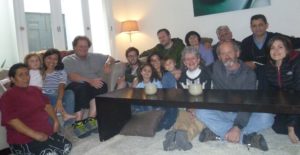 On August 30th, A Rocha Peru celebrated an enjoyable (albeit rainy!) 'Time Out' in Barranco, Lima, in the company of members, staff, family and friends, as well as guests from A Rocha Switzerland. 'Time Outs' are held by A Rocha organisations around the world in years when there is no International Forum taking place. They offer A Rocha communities around the globe a fantastic opportunity to meet socially outside the workplace to relax, pray, and share food and time together.
A 'Time Out' devotional, led by new Board Director, Sara Armstrong, focused on marine conservation, keeping in line with the theme of the IUCN World Conservation Congress taking place from September 1st to 10th in Hawaii.
A Rocha International contributed to the IUCN Congress, with A Rocha's co-founder, Peter Harris, delivering a compelling presentation as part of the High-Level Panel entitled, 'Connections: Spirituality and Conservation'. You can watch his talk between 1h07min and 1h22min via the video link above.