Projects bring year to a festive close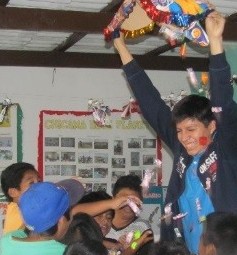 2015 was brought to a festive close with Christmas events held at all of our project sites. In La Libertad, members from both of our youth environmental clubs made Christmas crafts and decorations from recycled materials, which they shared and displayed at Christmas get-togethers on December 15th and 21st. Club members enjoyed singing Christmas carols, watching festive videos, having fun with piñatas, and other games, and also shared 'Secret Santa' gifts and a delicious Christmas meal.
 In Talara, 36 children from the local community of La Campana were invited to enjoy a traditional chocolatada (a festive hot chocolate feast) at the ballroom of the community tourism center. At the get-together held on December 19th, the children received their own Christmas gifts and also played festive games and enjoyed a Christmas show with our colleague Walter
dressing up for the occasion (pictured left).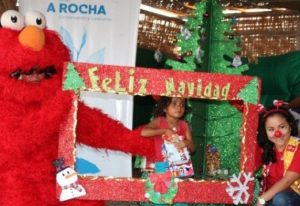 On December 20th, our Project in La Esperanza celebrated the end of the year by holding a thanksgiving service at the La Gracia Church in Trujillo, remembering the birth and mission of Jesus Christ. The service was attended by around 70 guests, including children from Nueva Jerusalen, members of our "Friends of Nature" youth club, parents, and children and members of the church. All guests enjoyed a lovely play by members of the La Gracia Church, and children received Christmas presents.