New dry forest conservation project in La Libertad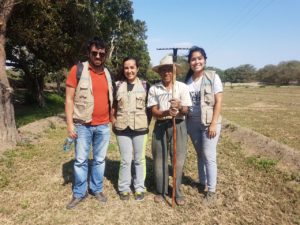 This year A Rocha Peru has launched a new dry forest conservation project within La Libertad department, as part of a joint partnership with A Rocha Switzerland. Building upon our previous dry forest project in Ascope province, this new project is working with communities in the Pacasmayo province to restore, conserve, and sustainably manage dry forest landscapes for the benefit of local people and wildlife.
Overall, the project is working in four key areas: 1) Conservation; 2) Applied Research; 3) Capacity Building; and 4) Knowledge Management. Project activities range from working with local community members to protect dry forest remnants, training smallholder farmers to produce agroforestry species on their agricultural plots surrounding the forests, conducting dry forest research, and providing ecological ovens to local families to encourage a reduction in fuelwood consumption.
In the long-run, this project will provide significant impact by restoring dry forest landscapes and promoting sustainable dry forest management to conserve a thriving habitat for endangered wildlife species and a vital natural resource for local communities and future generations. To learn more about this new project and to support it though a donation, click here.