Irrigation Challenges and inauguration of a new environmental club in La Libertad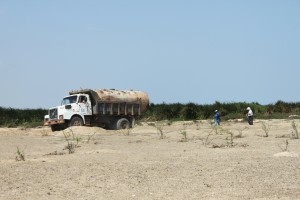 The La Libertad Project started the new year with two new Field Officers, Jordan de la Cruz Castillo and Aracely Gonza Carnero, who formerly were dedicated project volunteers. Rusty Edmonson and Sara Armstrong joined the team in February for an annual project monitoring visit on behalf of the Watersheds Foundation. They were able to see the progress of the plant nursery at the National University of Trujillo and at the reforestation site in Razuri. They also had the opportunity to meet with the members of the 'Chicama Blue Planet' environmental club.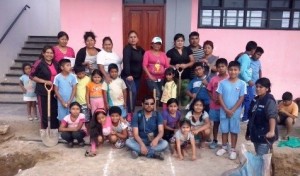 Reforestation activities continue, with visits carried out twice a month to monitor plant growth and irrigation at the reforestation site. Maintaining adequate irrigation is proving a challenge for the project and the team is currently searching for ways to overcome this. Environmental education activities were held with a guided trip to El Tubo wetland, near the reforestation site, and workshops and talks held to celebrate Environmental Education Day on January 26 and Earth Day on April 22. Members of Chicama Blue Planet marked Earth Hour by walking through Razuri town centre with banners to raise environmental awareness in the community and to show their commitment in the fight against climate change.