"We are water, we are forest, we love our planet": environmental fair in Talara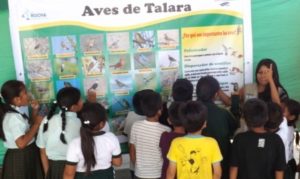 The Talara Project celebrated Earth Day on April 22nd by hosting an environmental fair, entitled "We are water, we are forest, we love our planet". The fair aimed to raise community awareness around the importance of conserving and sustainably using dry forest, and responsibly using water, a  scarce resouce in this arid region. The event was held at partner school, I.E. Felipe Santiago Salaverry, and included fun and educational activities, such as contests, storytelling, exhibitions, and even dessert-tasting!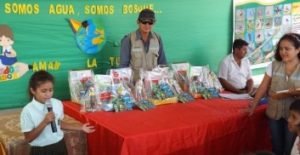 In the weeks running up to the big day, first to third graders from the primary school were invited to take part in a drawing and painting contest. A total of 94 students submitted wonderful pieces of art based around the fair's theme, of which 12 were selected for the final round. On the day of the fair, the finalists spent two hours working on their final submissions, before the winners were publicly announced.
Fourth to sixth graders were invited to take part in a poetry contest, also based around the fair's theme. This contest aimed to foster creative writing skills, as well as environmental awareness, amongst the older primary students. 45 students registered for the contest, and the winner from each grade was announced during the fair.
Other activities included a storytelling session involving 69 first and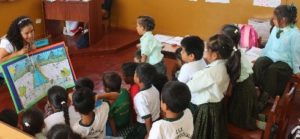 second graders; an environmental education exhibition showcasing Talara's wealth of birds and dry forest areas; and dessert-tasting where delicious treats, made using Algarrobina (a product of the native Algarrobo tree), were shared.