The next generation of environmental leaders are being trained in innovation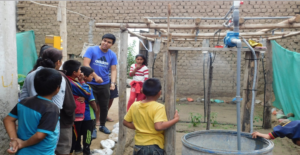 In the Esperanza Peace Centre Project, we are training the next generation of environmental leaders in technical trainings provided by the A Rocha Peru team. In November, a total of 14 children were trained in an automated irrigation system. This followed the hard work of the children in the Esperanza Peace Centre who participated in preparing the land, sewing plants, and constructing the structure which would be used for the irrigation system. The plants were a generation donation from the local company Viveros Agrogenesis S.A.
The training not only builds on the children and community member's technical knowledge of agriculture and conservation, but also teaches the importance of using creativity and innovation to solve the social and environmental problems that they face in the shantytowns of Trujillo. Some of the key issues which these communities face, is the high levels of environmental contamination, food insecurity and difficult access to clean water. In November, the Esperanza Peace Centre organised a fair called "I Feria Ambiental de Reciclaje y Tecnología" where the children presented  the ecological-technological projects for the rest of the community. We cannot wait to see what innovative solutions the children will create in the future!