The children of the Esperanza Peace Centre learn about the disaster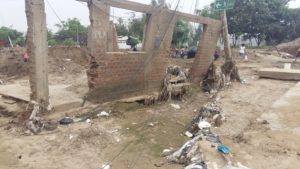 At the beginning of 2017, Peru suffered from torrential rains, catastrophic flooding and landslides, with the northern coast experiencing the worst flooding in thirty years due to the El Niño Costero phenomenon. The phenomenon was intensified by climate change and deforestation due to increased human activity on the environment, through the removal of vegetation cover and increased urbanisation. The disaster was a cruel reminder of our vulnerability and dependence on natural resources, particularly within poorer communities. Overall the disaster took over 100 lives, and left more than 140,000 homeless, and affected almost one million people. Thousands were displaced, with their livelihoods destroyed, and with restricted access to clean water, food, shelter, health care services and education.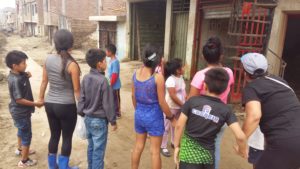 The district of La Esperanza was left without access to water and suffered from the drastic inflation of food products. The children of the Esperanza Peace Centre took part in a day trip to the neighbouring district, El Porvenir, which suffered more severely from a mudslide that devastated the community. During the trip, they learned about the devastating effects of the disaster and the consequences of living in vulnerable areas fomenting solidarity and compassion for those who have been affected.