Talara Project's third year gets off to a great start!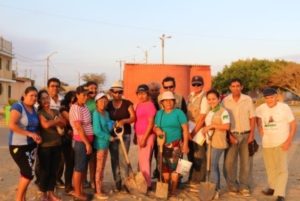 Our Talara Project's third year got off to a great and eventful start with community, tree-planting campaigns organized in January and March. The campaigns, called 'Plant an algarrobo! Plant life!', were community-led initiatives, with the Women's Club at the Luis Negreiros Vega neighbourhood taking the lead on both occasions. Overall, 32 members of the local community took part in this initiative, planting a total of 200 Algarrobo (Prosopis spp.) seedlings around their neighbourhood.
Meanwhile, our environmental youth club at I.E.Victor Maldonado Begazo secondary school, 'A Rocha Kids', welcomed 24 members to the club at the beginning of the school year, in March. The club put their heads and skills together to design their own logo and create a digital model of their future school garden and vegetable patch 

(pictured far left). Starting in February, the members of 'A Rocha Kids' began building their vegetable patch, planting alfalfa and sweet potatoes, painting fences, and setting up a shed for birds and guinea pigs. The whole team has been excited to see this club, and their garden, grow and prosper!