Successful delivery of the Dry Forest Project's second year!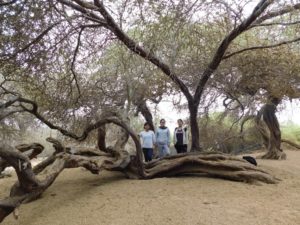 A Rocha Peru has completed its second year of the Dry Forest Conservation project in Pacasmayo, La Libertad, Peru. This project is being delivered in partnership with A Rocha International, with the support of the Swiss Foundation, Interaction, Watersheds Foundation and individual donors.
We are delighted to communicate that the project has made significant progress in achieving its goal to collaborate with local communities to restore, conserve, and sustainably manage dry forest landscapes for the benefit of nature and society in northern Peru.
Key highlights include:
The formalization of 11 agreements to restore and conserve dry forests with private landholders and agricultural associations.
The reforestation of 7.61 hectares of degraded dry forest areas in Pacasmayo by planting native seedlings with the participation of community members. In addition, fruit trees were planted across 0.25 hectares of farmland in Santonte with farmers.
Conducting monitoring visits in reforested areas of Puerto Chicama and Pacasmayo.
Working to reduce illegal logging in the identified dry forests by establishing new local conservation groups including Muchick Local Conservation Group, Santonte, and La Portadad de Sierra in Cerro Pitura. A Rocha Peru has trained these groups on topics such as dry forest species, and dry forest patrols.
Reducing the use of charcoal and firewood in dry forest communities by installing ecological cookstoves for beneficiaries.
Supervising and supporting the data collection, field work and preparation of theses carried out by students from the National University of Trujillo and the University Cientifica del Sur in Lima by A Rocha Peru's Science and Conservation Director, Maria de los Angeles la Torre Cuadros.
Training local community members on dry forest restoration and conservation by holding environmental education workshops on a broad range of topics including the importance of the dry forest, climate change, agroforestry and solid waste management.
Training local community members as environmental leaders on dry forest conservation.
Holding workshops on the production of traditional crafts using sustainable dry forest resources.
We are excited to start 2020 with such achievements, and will advise you of progress made in restoration and planting soon!