New reforestation technology successfully trialled in La Libertad.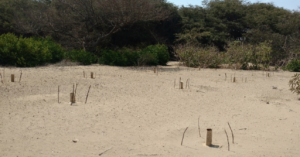 To our delight, two monitoring visits of native trees reforested using COCOONs at our La Libertad project site, have revealed that this technology is perfect for dry forest reforestation. COCOON is an innovative planting technology that enables trees to grow in arid conditions. Trees grown using this technology have an 80-95% survival rate. Furthermore, the COCOON is 100% biodegradable and low maintenance as no further irrigation is needed once the tree has been planted.
We are excited to apply this technology to support our future dry forest restoration activities in La Libertad, for which we are currently looking for funding.