New National Board elected at Extraordinary General Assembly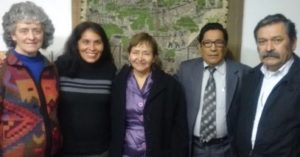 On July 14th, A Rocha Peru's members met at an Extraordinary General Assembly held at our Lima office to elect a new National Board, in preparation for the completion of the outgoing Board's term. Through unanimous decision, we have been happy to welcome our new National Board Chair, Irma Briceño Sanchez (pictured at the centre) and our Board Directors, Sara Armstrong (furthest left),  Camilo Diaz Santibañez (furthest right) and Sarah-Lan Mathez-Stiefel. Their term will run from September 2016 to August 2019. You can also read more about Irma in 'Friend's Corner' below.
The Assembly was also an opportunity to express our sincere gratitude to our outgoing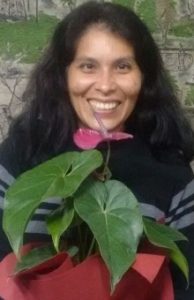 Board, namely former Chair, Maria de los Angeles La Torre Cuadros (second on the left), former Treasurer, Hector Castillo Zavaleta (second on the right) and former Secretary, Alexander Sifuentes Rossel, for their invaluable contribution and commitment during their term. Maria de los Angeles was presented with an anthurium flower in bloom as a small token of our heartfelt appreciation.
During the meeting, Maria de los Angeles reflected upon the achievements and challenges of the outgoing Board during their leadership. That today A Rocha Peru operates under robust and well-honed governing statutes and internal regulations, has a formalised organisational and governance structure, and an efficiently run governing body, is in no small part thanks to their outstanding effort and dedication. Reflecting on this time, Angeles says, "Serving as Board Chair has been an amazing learning experience, professionally and spiritually. I have learnt to be patient with myself and others, and to trust in God's guidance. There is however still work to do, and we must continue opening up new paths!"