New environmental education manual launched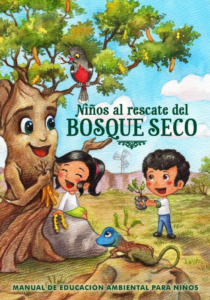 Environmental education is essential to the sustainability of our efforts to conserve, restore and protect dry forest ecosystems. As part of our dry forest restoration project in Talara, we developed an exciting new environmental education manual, entitled "Children to the Rescue of the Dry Forest". This beautifully illustrated manual has been designed to encourage local children to learn about the key species of flora and fauna found in the dry forest, and the practical ways in which they can look after their environment.
The manual contains a variety of modules and fun activities on topics such as responsible use of natural resources, waste management and recycling, the importance of conserving the dry forest, the sustainable use of the Prosopis sp. tree and the endangered Peruvian Plantcutter bird (Phytotoma raymondii). You can access the online version of the manual here (available in Spanish only).