Natural regeneration strengthens dry forest conservation efforts in Talara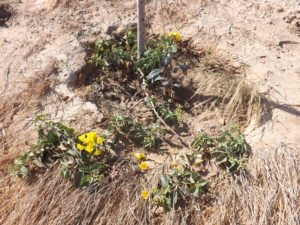 Thanks to our successful partnership with ContourGlobal, and eight local neighbourhood councils in Talara, we are thrilled that our dry forest restoration activities have resulted in natural regeneration at our project site.
Regular monitoring visits have shown an increase in native flora and fauna, most significantly noted by the presence of active nests belonging to the critically endangered Peruvian Plantcutter bird (Phytotoma raymondii).
Furthermore, we have registered natural regrowth of several plant species including those we have reforested such as algarrobo (Prosopis sp.) and vichayo (Capparis ovalifolia), as well as others such as spiderlings (Grabowskia boerhaaviafolia) and the wild sunflower (Encelia canescens.), with some saplings flowering and bearing fruit!  This natural regeneration is an important indicator that the ecosystem within the reforested area is recovering its functions, and reveals the fantastic progress the project is making.