La Libertad Project helps shape conservation policy and knowledge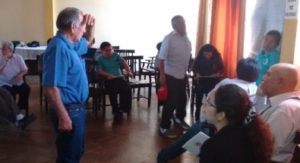 Team members based in La Libertad took part in two separate events in June that aimed to shape public policy and knowledge around environmental conservation. The first event (pictured right) contributed to a new strategic plan for biodiversity conservation in Peru, organised by the Ministry of the Environment. A Rocha Peru was invited, alongside local stakeholders and government representatives from Pacasmayo province (where we are extending our La Libertad project) in order to contribute to shaping public policy around dry forest conservation.
The second event, entitled "The state's role in wild flora and fauna conservation",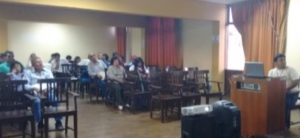 was a forum organised by the regional government of Pacasmayo province. Project staff gave a presentation on A Rocha Peru's experience of coastal dry forest conservation, and attendees included local environmental authorities, community leaders, and fellow conservation organisations, such as "La Conservacion de nuestros bosques secos" (Conservation of Our Dry Forests). Not only was this a great platform to share our work, but it was also a wonderful opportunity to learn from the experiences of others working in the same field.