La Esperanza Project settles in to new club-house and welcomes visitors
Early June saw "The Friends of Nature" youth club move to a new and improved club-house. Project staff, volunteer Santiago Panduro, and club members worked together to transfer all the club's supplies to the new location, where they quickly began working on improvements to the space. Soon after settling in, the club began preparations for a new vegetable garden, where they later planted radishes, beans, carrots, and lettuce.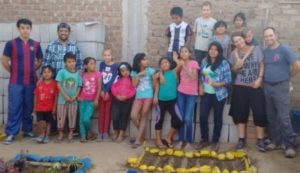 During this time, the La Esperanza Project received a welcome visit from the from Switzerland, who joined the team in their planting, watering, and decorating activities. They spent their last day at the project helping to paint the outer and interior walls of the club-house, before sharing an enjoyable afternoon with club members and staff. Our thanks go to Santiago and the Russi family for their great support!