Esperanza Peace Centre provides children with microenterprise experience
Thro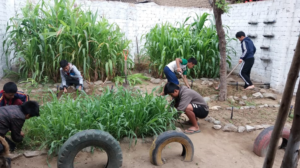 ugh our Esperanza Peace Centre, we have been providing the next generation of environmental and community leaders with practical, hands-on experience in microenterprise development. Since the beginning of this year, young beneficiaries have engaged in establishing a guinea pig rearing microenterprise.
Through the microenterprise the children have learnt important skills in responsibility, leadership, and small business development as well as the technical skills needed for this and future micro-enterprise endeavours.
In parallel, the children prepared, sowed and successfully harvested corn and grass in our Centre's bio-garden to use as feed for the guinea pigs. They also installed an automatic irrigation system to facilitate better care of the gardens. By doing so, the children have gained knowledge and skills in bio-gardening and drip irrigation methods, which can be transferred to other community projects or even future jobs.
In March, a few of the guinea pigs reared from the microenterprise, were used in a Cuyada, in partnership with the local community. This fundraising activity sold guinea pig 'ajiaco' dishes, a typical Peruvian meal and raised approximately 600 soles to benefit the microenterprise and the Centre's other activities. To learn more about the Esperanza Peace Centre Project, click here