Esperanza Peace Centre provides important social development skills to its participants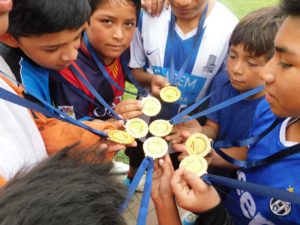 In the second semester of 2018, our Esperanza Peace Centre continued to deliver important social development and environmental education activities to the 19 children and families that benefit from the centre. These included workshops on Christian values, after school support sessions, recreational workshops, environmental education workshops, and pastoral and psychologist-based support. During this period, over 140 workshops were offered across these areas, a wonderful result for the project.
Some highlights from the second semester include: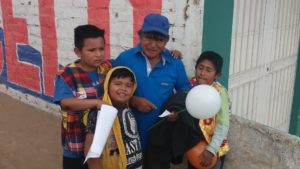 The Free Hugs Initiative: in October, centre beneficiaries took to the streets to offer free hugs to know and trusted members of the community, as a means of demonstrating God's love to us all. This initiative had multiple benefits including improved self-esteem of those offering and receiving free hugs as well as the sharing of joy.
La Cuyada: in September, mothers associated with the centre organised a Cuyada, a fundraising activity centred around the preparation and sale of 'ajiaco', a traditional dish prepared with guinea pigs from the centre. This is the second event of this kind for the year and was a great success!
Public area litter campaigns: in October children from the centre participated in a campaign to clean up their local streets, improving amenity and developing leadership qualities in environmental management.
Recreational fun: in September, the Centre organised its first football match between children from two neighbourhoods where rival gangs normally operate, which was successful in both bringing children together, creating new friendships, fostering healthy competition, and spreading a message of peace.
Maintenance and care of the Centre's organic garden: Centre children continued to maintain and care for the garden throughout the semester, remodelling some areas of the garden and providing regular maintenance to the garden's automatic irrigation system established earlier in the year.
This project has been temporarily deactivated in 2019 as a result of limited financing, with a view to being reactivated in the near future. A Rocha Peru will maintain the Centre as a space where participants can meet and undertake activities led by La Gracia Church, who are temporarily managing the centre during this period.
To learn more about the Esperanza Peace Centre Project, click here.