Creative environmental education: theatre and art in Talara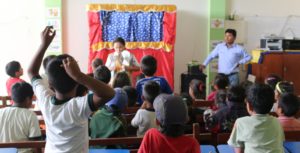 In November 2015, our Talara Project held two environmental education events with a creative twist at Felipe Santiago Salaverry school; our local partner school where the project's youth environmental club and plant nursery are based. On November 4th 93 school children from grades 1, 2 and 3 learnt about recycling waste though a puppet show put on by project staff. The small production used handmade puppets and took place at the school, where they had a great time learning how to take care of the environment through recycling.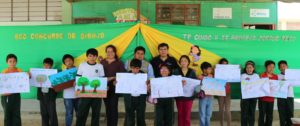 On November 11th, the project held an 'eco drawing contest' at the school entitled 'Dry Forest: I take care of you and protect you'. Students from grades 4, 5 and 6 took part in the contest, using art as a way of learning and sharing lessons on dry forest conservation. The winners were given a prize during a ceremony held at the school, attended by fellow students, teachers and project staff.