2019 Events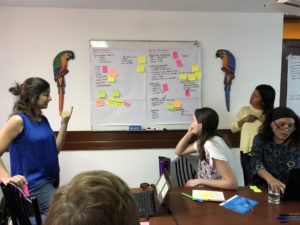 Strategic Planning Day
A Rocha Peru conducted a Strategic Planning Day on the 26th and 27th of April 2019 where we reviewed our progress against the previous strategic plan and then developed another plan for the next three years.  Sarah French, the Operations Director for A Rocha International, was also in attendance which coincided with her visit to the Dry Forest Project in La Libertad.  Sarah met with staff and project beneficiaries and gathered knowledge of local challenges and opportunities.
A Rocha Environmental Education Conference in Uganda
Ramon Casana, the Executive Director of A Rocha Peru, visited Uganda and participated in the A Rocha Environmental Education Conference from the 16th to 28th of June 2019.  Ramon shared some of his reflections from the conference:
"Participating in Uganda has been an enriching experience that has added a lot to my personal and professional life. Knowing the cultural context of Africa, the work of the different AROs, their projects and challenges, encourage me to continue working for the benefit of creation, contributing to my role what is necessary to preserve and protect it. Right now, in A Rocha Peru, we are working so, that in the medium-term we can implement what we have learned in our projects, as is the case of the Eco-schools, which in Africa have had a good impact on communities teaching children to cultivate and develop their personality. All this they do hand-in-hand with their teachers and parents. Implementing this methodology in Peru will allow us to train future environmental leaders who fight for the conservation of our fragile ecosystems."
 – Ramon Casana, Executive Director of A Rocha Peru.
 Environmental Event, Trujillo 
Participants from A Rocha Peru's craft artisan workshops attended an Environmental Event in September organised by the San Vicente de Paul educational institution in Trujillo. The objective was to communicate information about A Rocha Peru's Dry Forest Project and demonstrate the products that can be created through the sustainable management and use of dry forest resources and plastics.
3rd Congress of Protected areas for Latin America
The Dry Forest Project Coordinator, Flor Hidalgo, attended the 3rd Congress of Protected areas for Latin America and the Carribean.  This event provided an excellent opportunity for networking to share project learnings, and gather ideas and information from other projects for future application to our project.